GURUR BRAHMA,
GURUR VISHNU,
GURUR DEVO MAHESHWARAH
GURUR SAAKSHAAT PARA-BRAHMA,
TASMAI SHRI GURUVE NAMAH.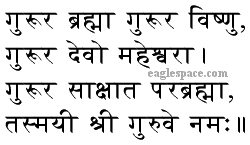 Summary of the Mantra
The Guru is Brahma (The God of Creation)
The Guru is Vishnu (The God of Sustenance)
The Guru is Shiva (The God of Annihilation)
My Salutation to such a Guru, who is verily the Supreme God

Audio (mp3) Snippets of the Guru Mantra
Download a rendition of the Guru Mantra in mp3 format from the "Chants of India" CD by Ravi Shankar. This CD is a must for anyone interested in exploring hindu mantras.
---